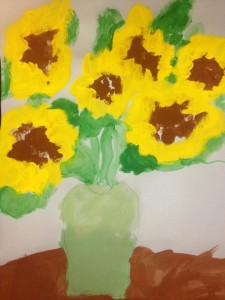 Traveling Art Gallery Files are linked below. You can download them before going in to present them to your classroom or show them from this webpage during your presentation
Please also see brief TAG Talking points below.
TAG #1 October

Kindergarten: Claude Monet
1st Grade: Vincent Van Gogh
2nd Grade: Norman Rockwell
3rd Grade: Andy Warhol
4th Grade: Salvatore Dali
5th Grade: Georges Seurat
TAG #2 December

Kindergarten: Louise Nevelson
1st Grade: Pablo Picasso
2nd Grade: Mary Cassatt
3rd Grade: Rembrandt
4th Grade: Michelangelo
5th Grade: Frida Kahlo
TAG #3 February

Kindergarten: Keith Haring
1st Grade: Leonardo daVinci
2nd Grade: Diego Rivera
3rd Grade: Kathe Kollwitz
4th Grade: Georgia O'Keeffe
5th Grade: Shepard Fairey
TAG #4 April

Hokusai: Japanese Name Translations for 5A and 5B, Japanese Name Translation Website, Translator Tool (for new names)
TAG Talking Points
Traveling Art Gallery (TAG)
Thank you for volunteering to bring art to the Hartwood classrooms. The following information will help you prepare for your TAG discussions.
Before you volunteer:
Schedule a time/date with the homeroom teacher. Presentations should run 20-30 minutes.
Review the presentation from the links on this page. The teacher will also have a copy to project onto the smart board.
Pick up the art activity materials from the front desk.
TAG Presentation
Introduction & Purpose (1 minute) – Briefly introduce yourself and the TAG program. TAG is a program that helps our students learn about various artists and their styles through short classroom presentations and hands-on activities.
Artist and Style (5 minutes) – Run PowerPoint slideshow through the laptop/smart board and discuss the featured artist, style, medium, genre. Talk to the points on the slides.
"Let's Talk Art" (5 minutes) – When facilitating an art discussion, allow the students to voice their own impressions about the work. Ask open-ended and exploratory questions on the slide.
Observation – help students describe what they see, including colors, textures, materials.
What colors do you see in the picture? What shapes do you see in the picture? What details do you find? What is the subject matter? Where and when do you think this picture was made?
Interpretation –help students explain what they see.
What is happening in the picture? What was the artist thinking? How does it make you feel? What stands out to you? Why do you think the artist made the work? If the art could talk, what would it say? What would you title this piece?
Judgment – help students express their opinion through evaluation, which should be the final step after observing and interpreting the piece of art.
What do you like about this work? Would you like to own this work? Why?
Hint: There are no wrong answers!
"Let's Make Art" activity (10 minutes)
The students will then replicate the artist's style through a hands-on activity. All the materials for the activity will be ready for pick up prior to your presentation. You may need to ask the students to use their markers, colored pencils or crayons.
Clean-up (5 minutes)