Although it's still winter, spring is right around the corner! That means it's time for the Hartwood Elementary Springtime Sarris Candy Fundraiser!
Sarris Candy brochures and order forms will be sent home with students on MONDAY FEBRUARY 6th. Please return the order forms to school by WEDNESDAY FEBRUARY 22. Sarris will deliver the orders to Hartwood on Thursday, March 30,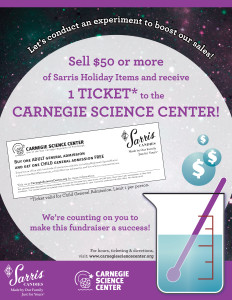 and they will be ready for pick-up. Just in time for the spring holidays and pick up before spring break!
A few notes about ordering:
Our organization's name is HARTWOOD ELEMENTARY. Please write this on your Master Sheet (top right section).
Please return BOTH COPIES of the Master Sheet to school on February 22. You keep the colorful order form for your records.
There is an online option for out of town family/friends. Out of town friends and family can go to SarrisCandiesFundraising.com , enter our Group ID#: 10-2734, and place their order. Those who order online do have to pay shipping, but the order goes directly to the customers.
There will be a Carnegie Science Center ticket awarded to students who have sales $50 and over.
Any questions, please contact Amy Seymour at litlamyseymour@gmail.com
Thank you for supporting Hartwood Elementary!